Paint Supplies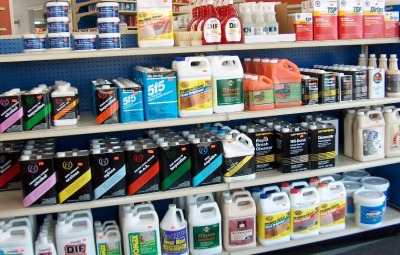 Here are some valuable resources for painting supplies:
---
Arroworthy Rollers
Welcome to the Arrow Rollers / Worthy Brush Home Page. This page has been created to guide and support our valued customers via this new and expanding medium. Our mission is to continue innovating and manufacturing hand crafted tools for the dealers' and the professionals' needs. You can contact our sales representatives on our toll free number (1-888-444-4949) or at 631-643-0436, Monday thru Friday 8:00am to 5:00pm EST. You can also contact us by facsimile (fax) 24 hours a day at 631-253-9750.
DAP Paints
Since 1865, DAP has marketed reliable, long-lasting products for contractors and do-it-yourselfers. Headquartered in Baltimore, MD, DAP is the leading marketer of caulks, sealants, insulating foam, spackling, glazing, and other general patch and repair products.
Linzer Products
Linzer Products Corporation has been a leading U.S. manufacturer and supplier of painting tools and accessories since 1892. Today you will find the Linzer quality under many different names. American Brush Company, World of Color applicators, Le Jour-Craft and Hobby brushes and Superset Brush Company to name a few. Linzer has grown to be one of the Worlds largest importers and exporters in the industry.
Purdy Corp
Purdy Corp products only the highest quality painting tools. Our meticulously handcrafted brushes and high-quality roller covers have been the choice of professionals for over 75 years. Now, we want them to be your first choice for all your painting projects. You might ask, "Aren't all brushes and rollers the same?" No, they are not. Each Purdy brush is an individually built instrument designed, formulated, and handcrafted for maximum painting performance. Our steadfast attention to detail throughout the manufacturing processes makes Purdy brushes the industry standard among paint tool manufacturers.
Shur-Line
Founded in 1945 in Fond du Lac, WI with the invention of the first practical paint roller for consumers, Shur-Line is a leading designer and manufacturer of paint application products. A Newell Rubbermaid (NYSE: NWL) company, Shur-Line markets a full line of innovative paint application and paint-related products for do-it-yourself consumers and professional contractors under the Rubbermaid and Shur-Line brands. Today, Shur-Line is headquartered in St. Francis, Wisconsin and employs 800 people.